Syllabus for MBP–006
PRINCIPLES OF MICROECONOMICS
---
COURSE DESCRIPTION
Economics is the study of how people manage their limited resources. The two main branches of economics are macroeconomics and microeconomics. Macroeconomics is the study of phenomena that occur across the whole economy. Microeconomics deals with how individual households and firms make decisions and interact. The second branch is the subject of this course: microeconomics.
Microeconomics focuses on the exchange between households and businesses. The goal is to provide students with an insight into a market-based economy while also shedding light on both the theoretical and the actual role of the government in this system. This course prepares students to be successful in more advanced finance, marketing, management, and economics courses.
COURSE TOPICS
T

en principles of economics

How an economist thinks

Interdependence and trade gains
Supply and demand

Elasticity

Supply, demand, and government policies

Consumers, producers, and the efficiency of markets

Production costs

Firms in competitive markets
COURSE OBJECTIVES
After completing this course, you should be able to:
Explain the basic concepts of scarcity and opportunity cost.

Analyze the forces of demand and supply and how they interact to determine an equilibrium price.

Discuss equilibrium, prices and their impact on resource allocation.

Explain the theory of consumer behavior.

Analyze the theory of the firm.

Compare the theoretical market structures of perfect competition and monopoly.
COURSE MATERIALS
You will need the following materials to do the work of the course. The required textbook is available from the University's textbook supplier, MBS Direct.
Required Textbook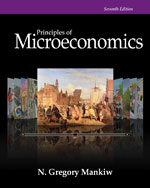 Websites
History of Economics Society (

http://historyofeconomics.org/

)—

Society that promotes interests, facilitates communication, and disseminates knowledge about the history of economics.
TECHNOLOGY REQUIREMENTS
System: A personal computer system with camera, microphone, and speakers.

Programs: Microsoft Word, Excel, and PowerPoint, specifically version 2007 or higher.

Web Tools: Skype account—You have or create a course Skype account. The free account enables visual and auditory communication. To establish a free Skype account, visit:

http://www.skype.com/en/download-skype

/
COURSE STRUCTURE
Principles of Microeconomics consists of four modules. Modules include an overview, topics, learning objectives, study materials, and activities. Module titles are listed below.
Module 1:

The World of Economics




Course objectives covered in this module:

CO1, CO4




Module 2:

How Markets Function




Course objectives covered in this module:

CO2, CO3, CO4, CO6




Module 3:

The Behavior of Firms




Course objectives covered in this module:

CO2, CO6




Module 4:

Organization of Industry




Course objectives covered in this module: CO3, CO4, CO6
ASSESSMENT METHODS
For your formal work in the course, you are required to participate in online discussion forums, complete written assignments, and partake in review conference calls. See below for details.
Consult the Course Calendar for due dates.
Discussion Forums
Discussion Forums are for individual learning, peer-to-peer instruction, and interaction with the course facilitator. You are encouraged to participate in online discussion a minimum of every other day. Using an alternating day engagement schedule enables you to monitor the evolution of topic discussions, ask clarifying questions, and contribute to content exploration. In addition, this approach provides time to reflect on your learning progress; review course materials, work and rework assignments, and check and confirm your understanding of course content and application. Also, it establishes a pace for class interaction.
You are expected to participate actively in online discussion forums. Your contributions enable and enhance individual and group learning. As an intensive course, its content must be learned and applied in specific periods of time. Therefore, it is recommended that you make an initial post to the discussion room no later than Wednesday of each week. The rationale for posting by midweek is that if you have questions, your peers and course facilitator can address them early in the week, promote understanding, and enable continuous learning. Moreover, posting by Wednesdays challenges you to complete the weekly readings, formulate questions, and respond to discussion questions. This practice helps to prevent waiting until the end of the week to engage course content and discussion, which can result in falling behind in the work and in turn feeling overwhelmed.
Remember: Don't suffer in silence! The course design, discussion forum engagement, and access to course facilitator are focused on creating a community of learners exploring, learning, and mastering course materials together. Through individual study, peer engagement, and facilitator guidance, you can advance through the preparatory courses and matriculate in the MBA degree program.
You are encouraged to post an initial response and at least one comment on other posts per week and per discussion question.
Types of Posts
One

substantive post

to the initial discussion question posted by the course facilitator

One

contributory post

(comment) to one peer learner.
Substantive Posts—Substantive posts are your response to the initial discussion questions posed by the course facilitator in each discussion forum. The substantive post evidences your understanding of the theories, models, and applications of course topics under discussion. Typically, substantive posts are information rich and data-driven citing and/or incorporating content from course learning materials, as well as external sources including work experiences, professional journals, or newspapers. The substantive post acts as a topic foundation on which to build content insight toward application mastery.
Contributory Posts—Contributory post are comments to one (1) or more peer learners. These posts extend or expand the responses of others. They define, clarify, and broaden everyone's understanding of work. Contributory posts build, challenge, and explore other's perspectives and applications of course materials. Like substantive posts, contributory posts are information rich and data driven. They are insightful responses contributing to everyone's understanding of and experience with the topics being discussed. However, these posts are not simple, non-reference supported response statements such as "Yes, I agree with you!" Instead, they are opportunities to explore topics through course materials and deepen your understanding and application of a topic in a supportive peer learning environment.
Written Assignments
You are required to complete written assignments consisting of content exercises and problems from the the course textbook.
Facilitator-Led Topic Review Session
In addition to weekly course discussions, the course facilitator provides a bi-weekly, 30-minute Topic Review Session. This interactive session reviews content, assignments, exercises, problems, and solutions. In addition, discussion questions and content questions are addressed. Coaching sessions will use SKYPE and/or conference calls.
GRADING AND EVALUATION
Your grade in the course will be determined as follows:
Discussion Forums

(

4

)

—

20%

Written Assignments (4)

—

80%
The course is a noncredit course.The course grade is Credit (CR) / No Credit (NC). A weighted average of 60% or above on all course activities is necessary to pass the course and advance to the next preparatory course and into the MBA degree program.
S
TRATEGIES FOR SUCCESS
First Steps to Success
To succeed in this course, take the following first steps:
Read carefully the entire Syllabus, making sure that all aspects of the course are clear to you and that you have all the materials required for the course.


Take time to read the entire Online Student Handbook. The Handbook answers many questions about how to proceed through the cours

e

and how to get the most from your educational experience at Thomas Edison State

University

.

Familiarize yourself with the learning management systems environment—how to navigate it and what the various course areas contain. If you know what to expect as you navigate the course, you can better pace yourself and complete the work on time.


If you are not familiar with Web-based learning be sure to review the processes for posting responses online and submitting assignments before class begins.
Study Tips
Consider the following study tips for success:
To stay on track throughout the course, begin each week by consulting the

C

ourse Calendar. The Calendar provides an overview of the course and indicates due dates for submitting assignments, posting discussions, scheduling and taking examinations.


Check Announcements regularly for new course information.
ACADEMIC INTEGRITY
Thomas Edison State University is committed to maintaining academic quality, excellence, and honesty. The University expects all members of its community to share the commitment to academic integrity, an essential component of a quality academic experience.
Students at Thomas Edison State University are expected to exhibit the highest level of academic citizenship. In particular, students are expected to read and follow all policies, procedures, and program information guidelines contained in publications; pursue their learning goals with honesty and integrity; demonstrate that they are progressing satisfactorily and in a timely fashion by meeting course deadlines and following outlined procedures; observe a code of mutual respect in dealing with mentors, staff, and other students; behave in a manner consistent with the standards and codes of the profession in which they are practicing; keep official records updated regarding changes in name, address, telephone number, or e-mail address; and meet financial obligations in a timely manner. Students not practicing good academic citizenship may be subject to disciplinary action including suspension, dismissal, or financial holds on records.
All members of the University community are responsible for reviewing the Academic Code of Conduct Policy in the University Catalog and online at www.tesu.edu.
Academic Dishonesty
Thomas Edison State University expects all of its students to approach their education with academic integrity—the pursuit of scholarly activity free from fraud and deception. All mentors and administrative staff members at the University insist on strict standards of academic honesty in all courses. Academic dishonesty undermines this objective. Academic dishonesty can take the following forms:
Cheating

Gaining or providing unauthorized access to examinations or using unauthorized materials during exam administration

Submitting credentials that are false or altered in any way

Plagiarizing (including copying and pasting from the Internet without using quotation marks and without acknowledging sources)

Forgery, fabricating information or citations, or falsifying documents

Submitting the work of another person in whole or in part as your own (including work obtained through document sharing sites, tutoring schools, term paper companies, or other sources)

Submitting your own previously used assignments without prior permission from the mentor

Facilitating acts of dishonesty by others (including making tests, papers, and other course assignments available to other students, either directly or through document sharing sites, tutoring schools, term paper companies, or other sources)

Tampering with the academic work of other students
Plagiarism
Thomas Edison State University is committed to helping students understand the seriousness of plagiarism, which is defined as using the work and ideas of others without proper citation. The University takes a strong stance against plagiarism, and students found to be plagiarizing are subject to discipline under the academic code of conduct policy.
If you copy phrases, sentences, paragraphs, or whole documents word-for-word—or if you paraphrase by changing a word here and there—without identifying the author, or without identifying it as a direct quote, then you are plagiarizing. Please keep in mind that this type of identification applies to Internet sources as well as to print-based sources. Copying and pasting from the Internet, without using quotation marks and without acknowledging sources, constitutes plagiarism. (For information about how to cite Internet sources, see Online Student Handbook > Academic Standards > "Citing Sources.")
Accidentally copying the words and ideas of another writer does not excuse the charge of plagiarism. It is easy to jot down notes and ideas from many sources and then write your own paper without knowing which words are your own and which are someone else's. It is more difficult to keep track of each and every source. However, the conscientious writer who wishes to avoid plagiarizing never fails to keep careful track of sources.
Always be aware that if you write without acknowledging the sources of your ideas, you run the risk of being charged with plagiarism.
Clearly, plagiarism, no matter the degree of intent to deceive, defeats the purpose of education. If you plagiarize deliberately, you are not educating yourself, and you are wasting your time on courses meant to improve your skills. If you plagiarize through carelessness, you are deceiving yourself.
For examples of unintentional plagiarism, advice on when to quote and when to paraphrase, and information about writing assistance and originality report checking, click the links provided below.
Examples of Unintentional Plagiarism
When to Quote and When to Paraphrase
Writing Assistance at Smarthinking
Originality Report Checking at Turnitin
Disciplinary Process for Plagiarism
Acts of both intentional and unintentional plagiarism violate the Academic Code of Conduct.
If an incident of plagiarism is an isolated minor oversight or an obvious result of ignorance of proper citation requirements, the mentor may handle the matter as a learning exercise. Appropriate consequences may include the completion of tutorials, assignment rewrites, or any other reasonable learning tool in addition to a lower grade for the assignment or course. The mentor will notify the student and appropriate dean of the consequence by e-mail.
If the plagiarism appears intentional and/or is more than an isolated incident, the mentor will refer the matter to the appropriate dean, who will gather information about the violation(s) from the mentor and student, as necessary. The dean will review the matter and notify the student in writing of the specifics of the charge and the sanction to be imposed.
Possible sanctions include:
Lower or failing grade for an assignment

Lower or failing grade for the course

Rescinding credits

Rescinding certificates or degrees

Recording academic sanctions on the transcript

Suspension from the University

Dismissal from the University
Copyright © 2016 by Thomas Edison State University. All rights reserved.